Dressing Up Your Outdoor Kitchen for Summer Entertainment
You have built a nice paved patio or deck off the kitchen door. A three-burner BBQ is standing to the side. The table and chairs provide a place to sit, but nothing about this collection inspires you to put out the wine glasses and call your friends. It is time to dress up your outdoor entertaining space for some summer fun!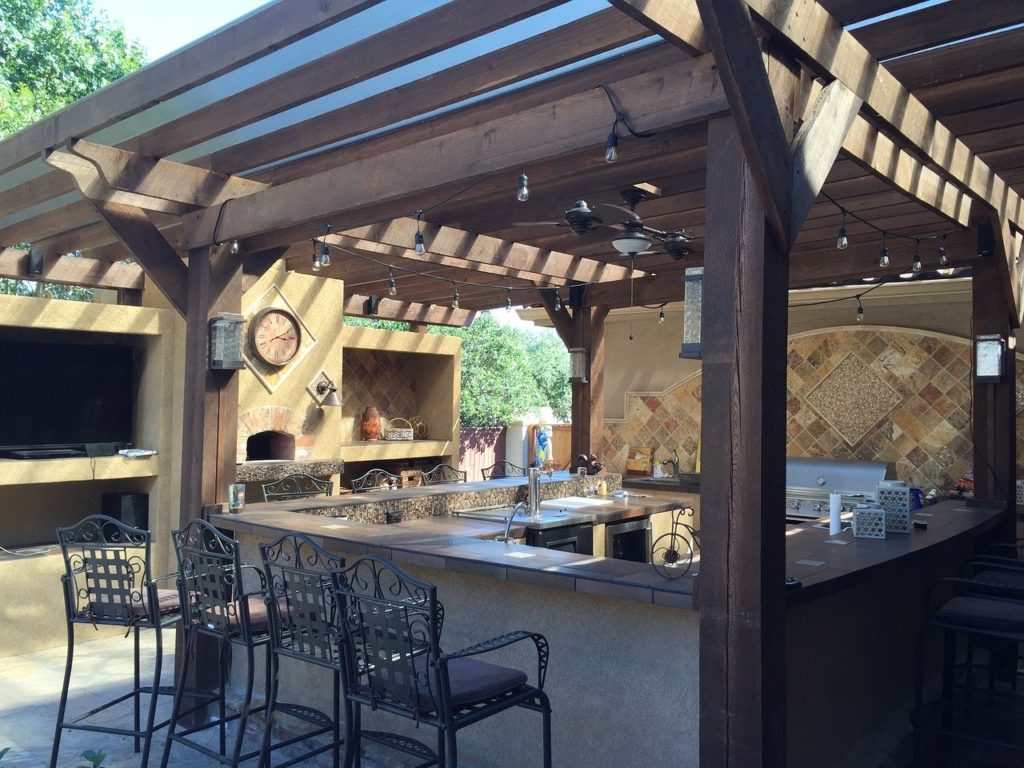 Breathe Color into Your Older Patio Dining Set
Your picnic table remains sturdy and functional, but it is a simple wood color that tends to blend in with the deck and overhanging trees. Bold bright colors remain popular at the home decor stores this year. Pick up washable dinnerware in bold blue, green, yellow, and red. Mix and match for a casual look that still stands out. Coordinate silverware, glassware, linens, and even your outdoor pots and pans. Suddenly the space becomes more welcoming without a major overhaul.
Light Up the Night with Fun and Affordable Options
Do your guests tend to retreat to the living room when the sun sets? Add rope LED lights to the underside of your deck railing for gentle illumination. String some party lights or fairy lights found in the camping section at your bargain store to lend a vibrant feel to your deck. A tabletop propane fire chases away the chill as its dancing flames keep the party alive.
All-Weather Cabinets Improve Function and Fashion for Your BBQ Area
If you love to fire up the grill or outdoor pizza oven but are always running inside for dishes, utensils, and more charcoal, think about installing your own outdoor kitchen. Upscale the concept with stainless steel and solid surface cabinetry. Opt for the same natural stone counters as inside to tie the two areas together. You can even add a drawer fridge for drinks and a handwashing sink so that the chef can stay with your guests throughout the evening.
An Indoor/Outdoor Carpet Creates a Welcoming Room
Part of designing an outdoor living space is lending it more of the characteristics of your favorite indoor lounge. Long gone are the days of the fake grass outdoor rugs that your grandmother used. Find a durable and delightful indoor/outdoor rug that brings more of your favorite colors and designs to your patio or deck. The rugs can be vacuumed or swept and do not mind a good downpour. Suddenly your conversation area is ready to invite your friends over for some good gossip around the fire.
Beat the Heat Under an Awning or Cantilevered Umbrella
Sometimes you want to embrace those sunny blue skies but the summer heat chases you into the shade and air conditioning. Spend more time in your outdoor space by installing an awning or large umbrella. Some power awnings feature a wind-detection unit that will automatically retract. If your back patio has a roof, install a ceiling fan for a cooling breeze while sipping iced tea in the shade.
Explore more design possibilities for your outdoor kitchen when you visit the showroom at Kitchen Concepts in Tulsa. We can't wait to help you bring your vision to life.